Orphek Atlantik compact V4 LED Aquarium Lighting
For both Android and iPhone ( the optional Gateway is required to get full control of this light)
For Optimal SPS/LPS Coral Growth and Color, Replacing 400w Metal Halide Aquariums
The Orphek Atlantik Compact V4 LED fixture has 42 LEDs that range from 380nm to 850nm that include full progressive dimming from 0-100%. Control the light from your favorite iOS or Android smart device! Just pair the Atlantik V4 up with Orphek Gateway for wireless control through the free Orphek Atlantik App.
Great for tanks up to 39" x 27" Exact image of light is in the detail first page
Dimensions - 13.58" L x 9.37" W x 2.11" H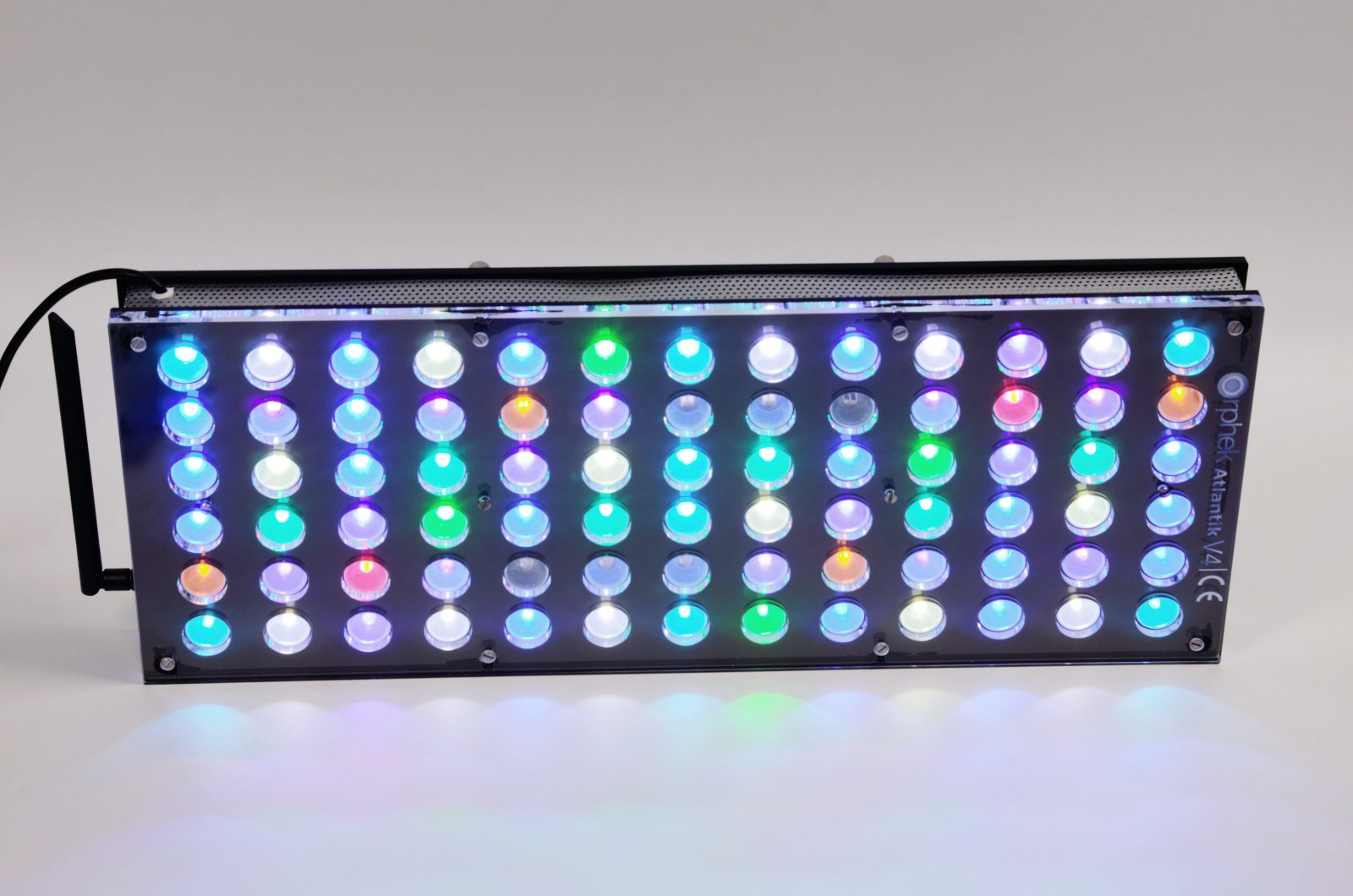 The Atlantik V4 technology brings built-in wireless control allowing you to easily program, control, and monitor your light(s) from your cell phone
Android and Iphone or tablet, any time and any place you are in the world, where internet access is available
Why the New ATLANTIK V4 is the best product Orphek has produced today?
14 new types of custom made dual core LEDs in the nanometer range from 380nm to 850nm.
Renders most natural appearance to the tank form 10K to 50K
Provides enough RED and IR LEDs needed
Contains Full dimming capacity in all channels, 0-100% with progressive dimming.
Provides IoT technology & Free apps available (App Store & Google play)
Gives the ability to control and program 200+ individual units!
Provides the best: PAR/PUR per watt; Highest Spectrum output; and Highest efficiency power supply.
The Atlantik V4 offering the highest economy efficiency (euro per watt)
The highest PAR, infrared exclusive spectrum and widest cover (light spread) in the market!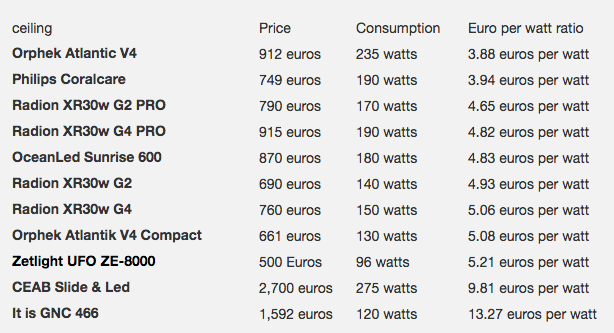 Atlantik V4 LED Reef Light – Japan Store Displays Beautiful Sps Coral Tank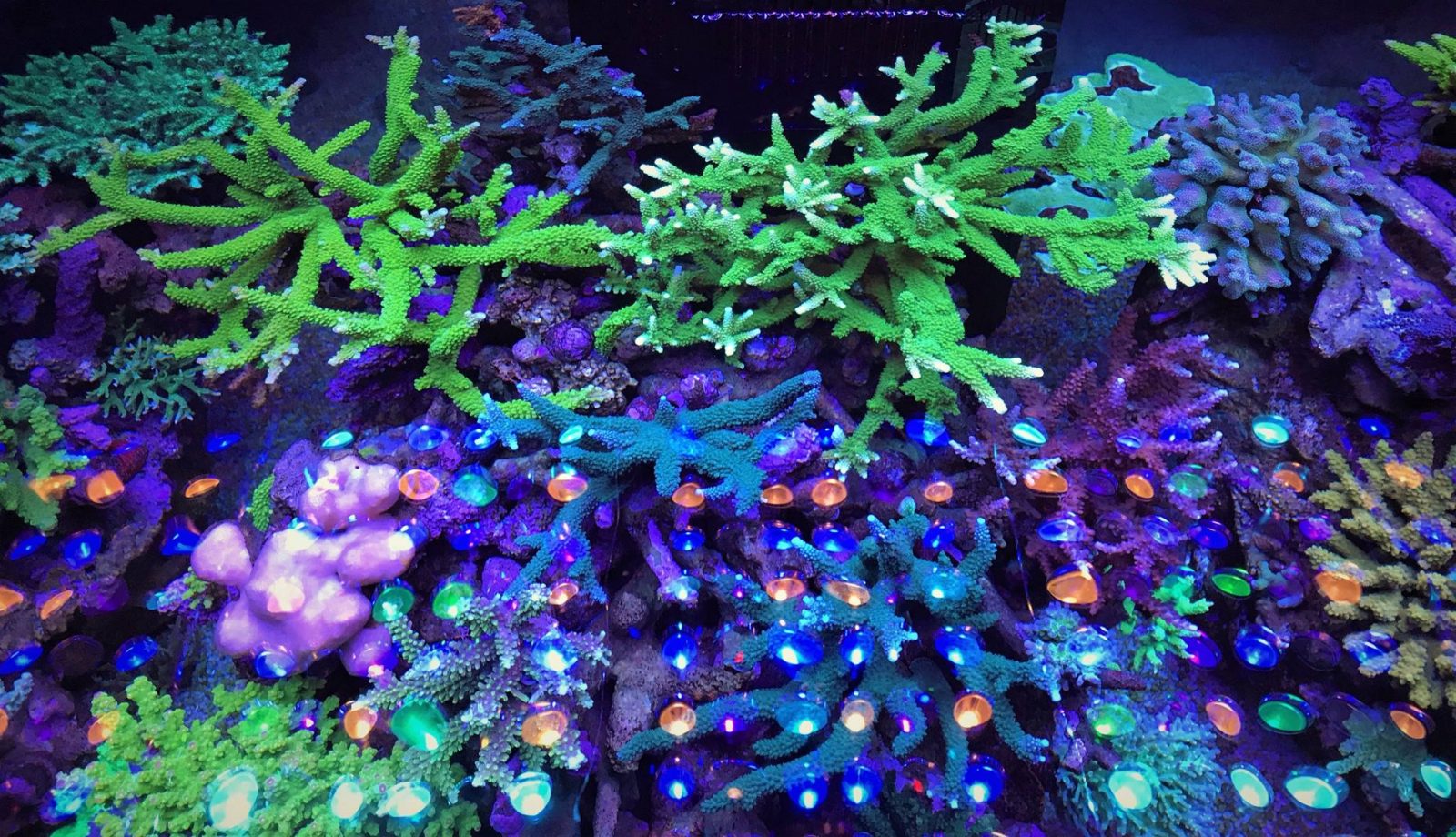 ---
Two Atlantik v4 Units Covers SPS Aquariums Size of 79″ x 27,5″ / 200 x 70 (cm)
CHECK THE NEW SPECTRUM FOR OPTIMAL CORAL BEAUTY, GROWTH, COLOR & HEALTH!
New 78 customized high efficiency 5w Dual-Chip power LEDs – total of 156 individual LEDs.
New 14 different types of Dual chip wide range LEDs. 380nm UV to 850nm Infra red!
First company to introduce the Infra red 850nm
New Spectrum for better coral growth, color and health.
Four separate control and programming channels.
Lens Options: Wide convex for tanks under 40" deep and 60 degree narrow for tanks over 40" deep.
---
SO WHAT IS NEW?
Atlantik V4 combines 14 new types of custom made dual core 5 Watt LEDs in the nanometer range from 380nm to 850nm for maximum photochemical efficiency.
There are TWO LEDs that dont seem to be ON and FOUR that seem dim……is this normal?
YES ! this LEDs are Infrared 850nm and UV 380nm
**Light of shorter or longer wavelengths doesn't excite our eyes' receptors — so we can't see anything beyond red (infrared) or violet (ultraviolet) on the electromagnetic spectrum of light. … The cell phone camera is more sensitive to light than human eyes are, so it "sees" the infrared light that is invisible to us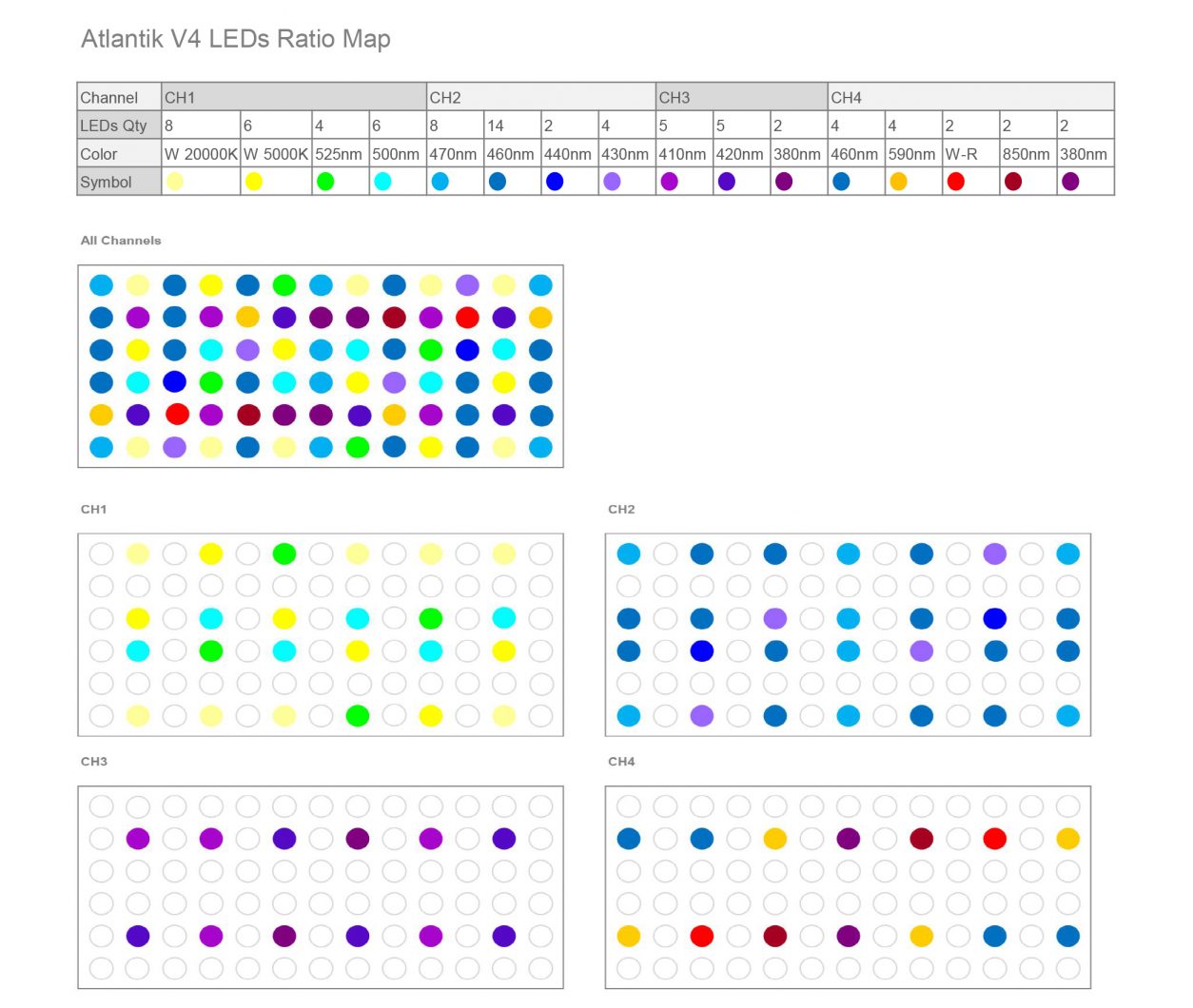 Atlantik v4 – Spectrum , PAR map, PAR /Watt, PAR/Matter, LUX, Kelvin, CRI, CCT, Flicker Frequency ,Foot Candle,mn
Orphek has already set the standard in the market for its advanced comprehension of color spectrums and its influences on coral physiology and once again is releasing another cutting-edge and groundbreaking technology, by bringing a revolutionary change in the spectrum provided by diodes and supplying its best product developed specifically for the needs of photosynthetic marine invertebrates.
PAR, SPECTRUM & EFFICIENCY
Highest PAR/PUR per watt.
Highest Spectrum output.
Highes efficiency power supply.
PAR / Spectrum and Other Test by Henning Wiese
Orphek Atlantik V4 PAR-Wert Grafik Orphek Atlantik V4 Kanaldaten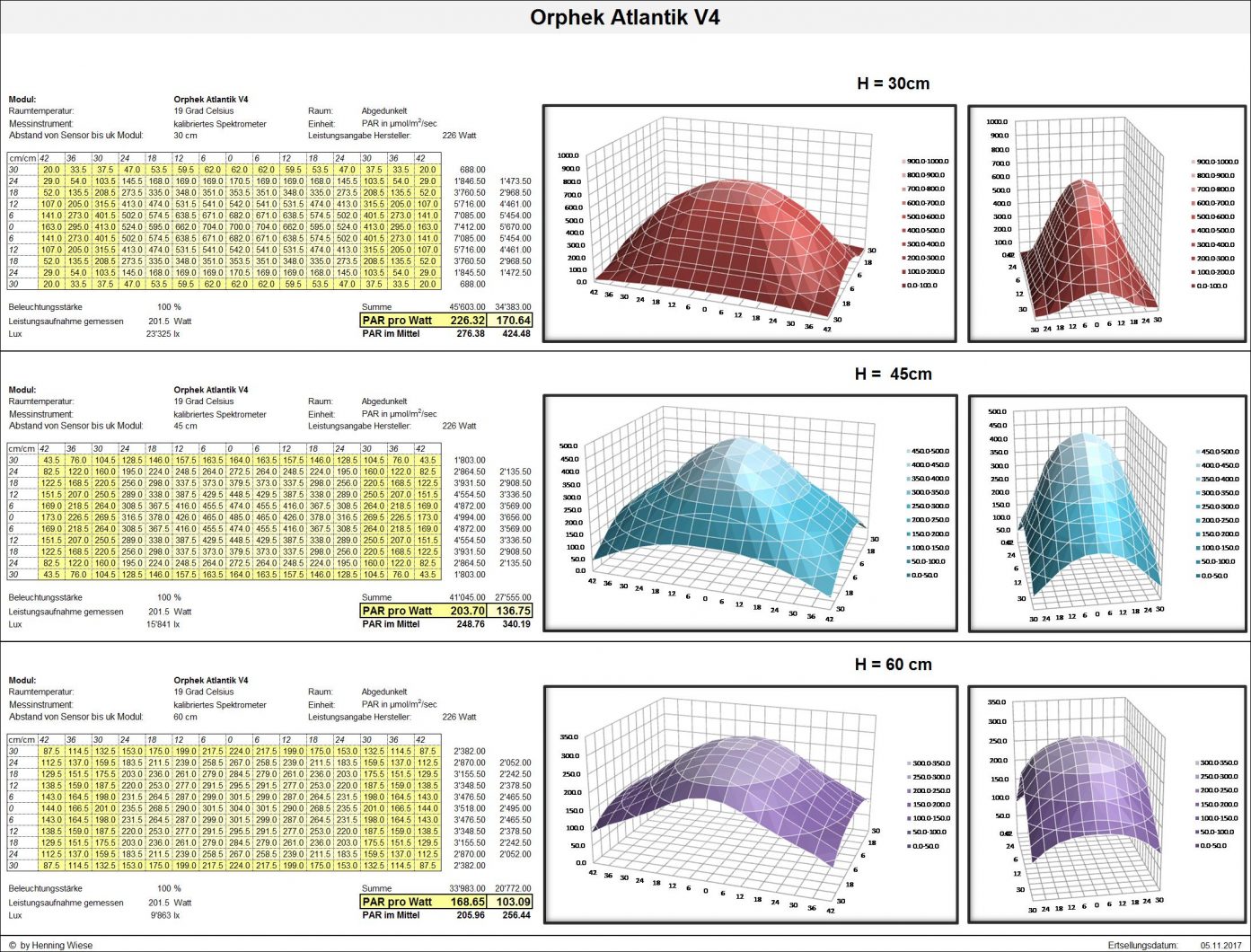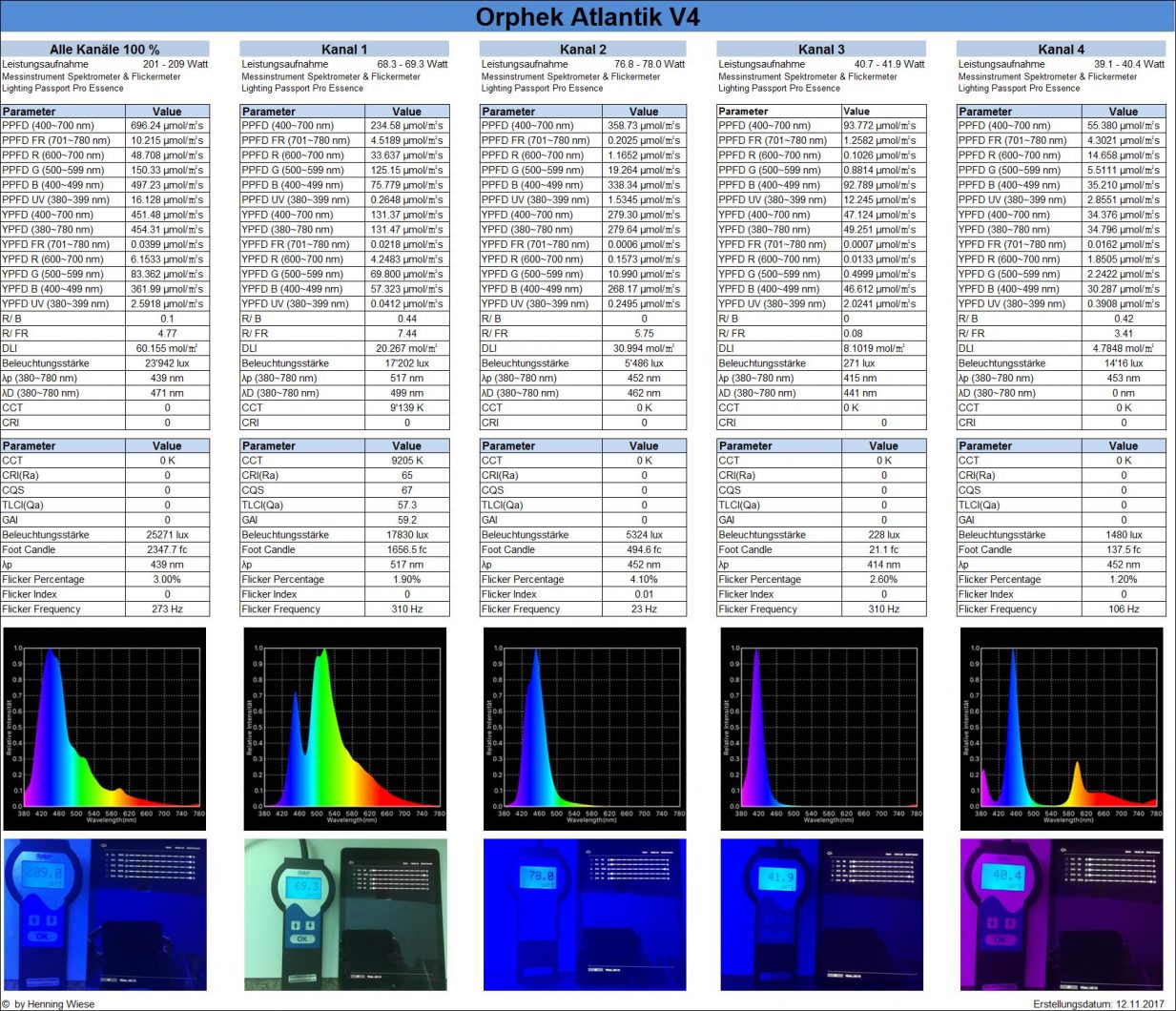 Atlantik V4 Spectrum Test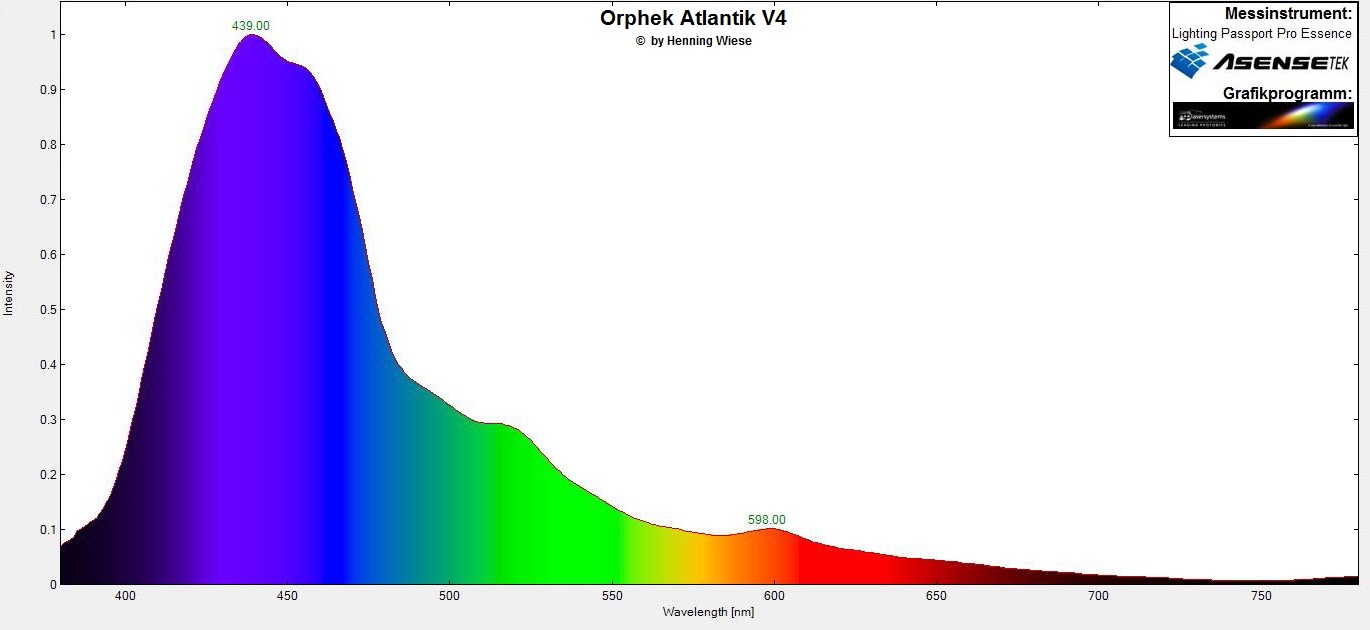 Orphek Atlantik V4 Pre Program PAR / Spectrum /Lux/ Watt Test by Henning Wiese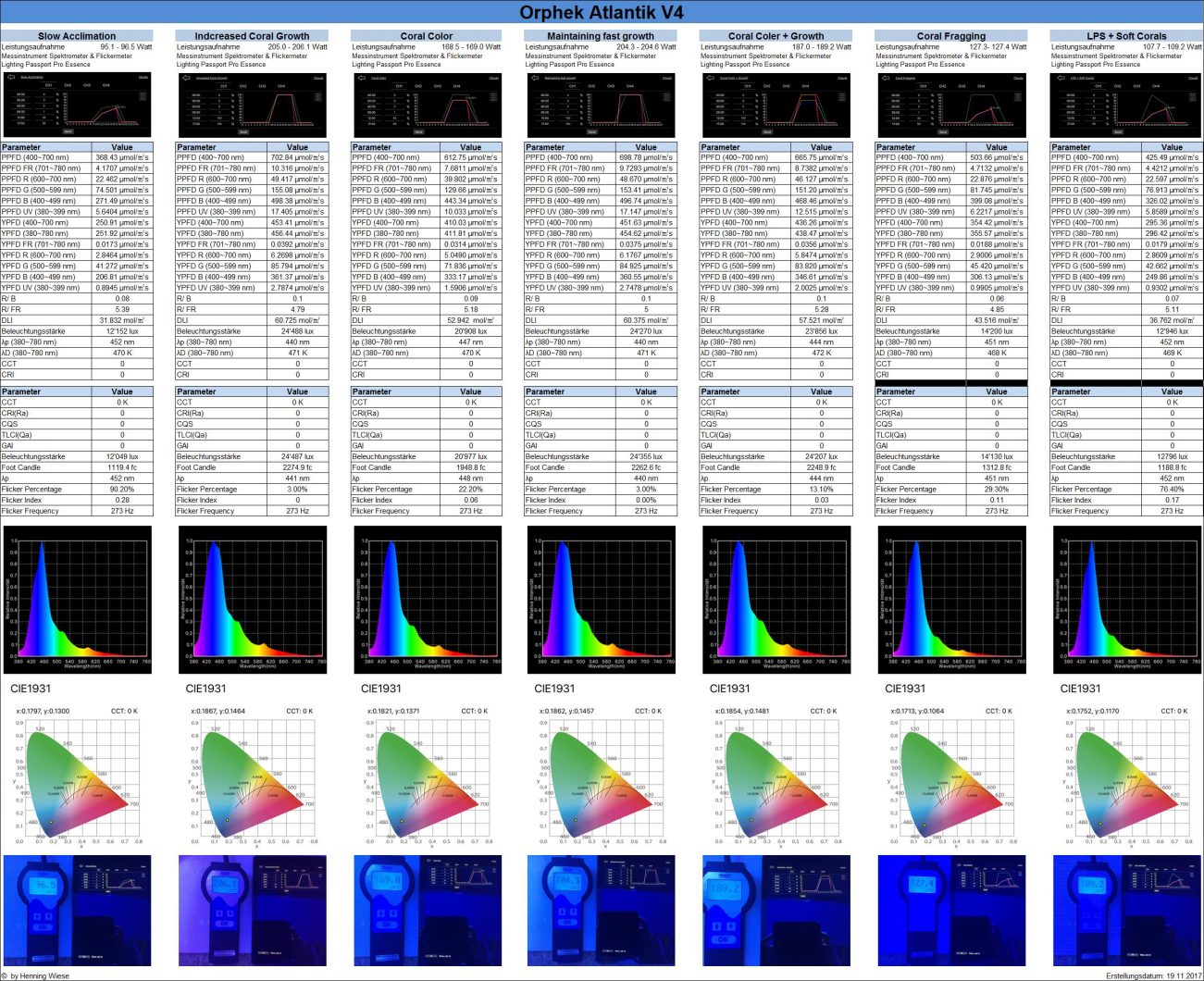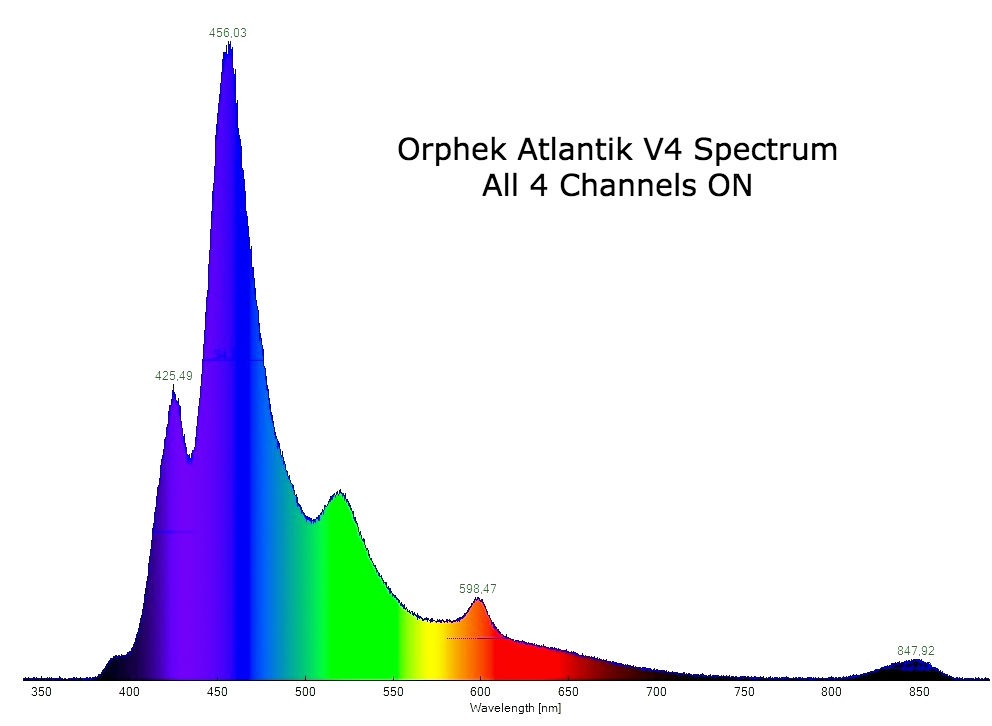 WITH A SURPRISING ELEMENT!
One of our target goals with the V4 was also to try to minimize as much as possible the outbreak of cyanobacteria and/or the growth of nuisance algae. Of course we all realize that without keeping proper parameters and religious tank maintenance is crucial and no light or system will prevent that, but Orphek succeeded to offer a new spectrum that balances just enough red with other colors of the spectrum to create a healthy balance of light.
We at Orphek feel that this is the most complete and beneficial spectrum ever created for a coral reef aquarium.
The new ATLANTIK V4 spectrum research resulted into the perfect balance between the light corals need and the overall appearance you want to see in your tank.